In "Gifting 101," we're bringing you all the best advice on gifting, whether you need advice for what to share for the holidays or tips on how to continuously impress your loved ones with gifts they'll cherish.
It's hard not to get the song "The Twelve Days of Christmas" stuck in your head. But after happily belting "five gold rings" like we're Pavarotti, does anyone really remember what comes after that? Somehow it turns into abstract interpretations, with six slimy socks, seven dogs digging, and eight monkeys grooming (those are the words, right?). Then, as soon as we reach number five, people run in from other rooms to join in. You might want to study the lyrics before caroling around the neighborhood this year.
The story behind the 'Twelve Days of Christmas'
The earliest version of this Christmas carol appeared in a British children's book called "Mirth With-out Mischief" in 1780. Some theories point to the song having French origins. However, most historians agree that the song was originally created as a memory-and-forfeits-game, in which singers tested their ability to recite the lyrics perfectly and had to give their opponents a forfeit — a favor of some kind — if they made a mistake. The song we know today didn't appear until 1909, when it was arranged by English composer Frederic Austin.
While it may seem like a fun idea to gift someone the 12 days of Christmas, it's also incredibly expensive. According to the Christmas Price Index, it would have cost you over $16,000! And who really needs 12 drummers drumming…
---

---
Instead, we've compiled a list of Christmas gifts for each day in the song that won't break the bank — and won't turn your house into a home for a marching band.
On the first day of Christmas…A partridge in a pear tree
Of course we went with pears. How can we not? Giving pears at Christmas has a lengthy history that dates back to the 19th century, and the tradition remains strong to this day with the iconic, delicious, and buttery Royal Riviera® Pears.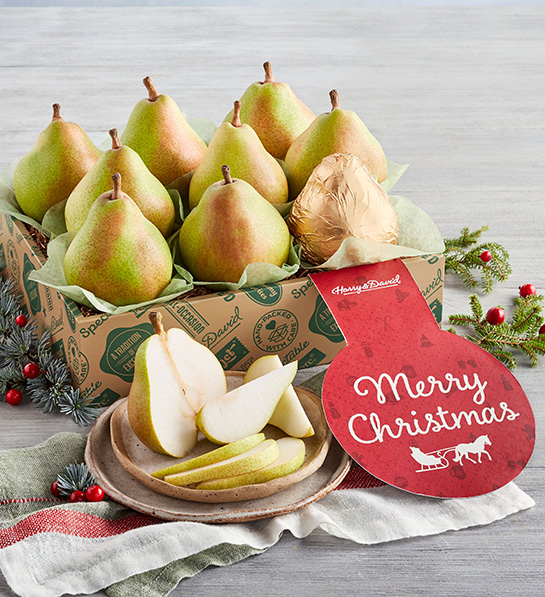 On the second day of Christmas…Two turtle doves
Wow your loved ones with a beautiful pear of Gold Multi Stone Green Crystal Mix Turtle Earrings, to bring them good fortune into the new year. Turtles often symbolize luck, endurance, wisdom, and patience, of which we all need a little bit extra during the holidays.
On the third day of Christmas…Three French hens
Who doesn't love that rustic farmhouse feel, especially during the holidays. It just screams coziness. Well, now you can gift it with a Farm Style Appetizer Plates Set. Enjoy your delicious holiday appetizers and charcuterie in style without having to deal with the feathers.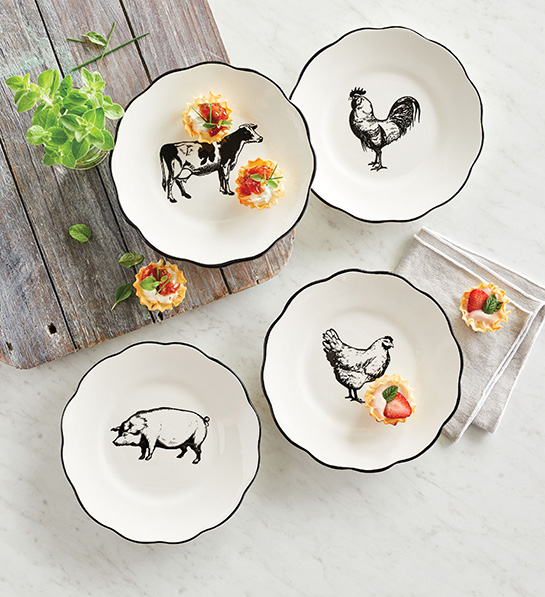 On the fourth day of Christmas…Four calling birds
The holidays are made for eating, and the Love Birds Personalized Beechwood Utensils are the perfect tools for your Christmas feast. These are the perfect stocking stuffer or can make a lovely hostess gift. A set of four utensils, including a slotted spoon and spatula, are made out of beautiful beechwood, and come with a custom message and a pair of love birds and hearts engraved on the handles.
On the fifth day of Christmas…Five gold rings
The wine never stops pouring during the holidays, but how do you display it when company arrives? This elegant Peacock 5 Bottle Holder will not only hold your wine but will create conversation. It might not be a gold ring (yes, gold ring, not golden ring that most of you belt out), but it will certainly keep the good times flowing.
On the sixth day of Christmas…Six geese a-laying
This is for that special someone who's fairly new to celebrating Christmas. The Animated Mother Goose Storyteller can recite seven classic nursey rhymes, including "Jack & Jill," "Hickory Dickory Dock," and "Little Bo Peep." This plush Mother Goose will keep your loved one warm and entertained this holiday season without leaving any surprise eggs in the bed.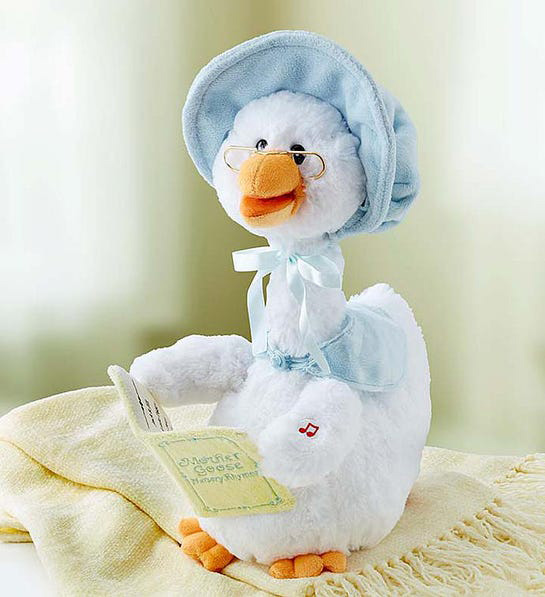 On the seventh day of Christmas…Seven swans a-swimming
The last thing you want to deal with on Christmas morning is an actual swan. Instead, opt for the My First Personalized Jewelry Box that plays the music from "Swan Lake." The box can be personalized with a name and custom message right on the beveled, mirrored glass top. The sweet ballerina figure inside may inspire some Christmas ballet recitals as well.
On the eighth day of Christmas…Eight maids a-milking
Bring in the holidays with an assortment of delicious cheeses that we're certain you'll milk for all their worth (see what we did there?). This Gourmet Cheese Assortment offers flavors for every palate, from Caves of Faribault St. Pete's Blue Cheese (a sweet yet peppery blue cheese) to Point Reyes Farmstead Toma Cheese (a semi-hard Italian cow's milk cheese with a buttery flavor and grassy tang finish). Serve with some crackers, dried fruit, and maybe a dip or two, and you've got a delicious holiday charcuterie board.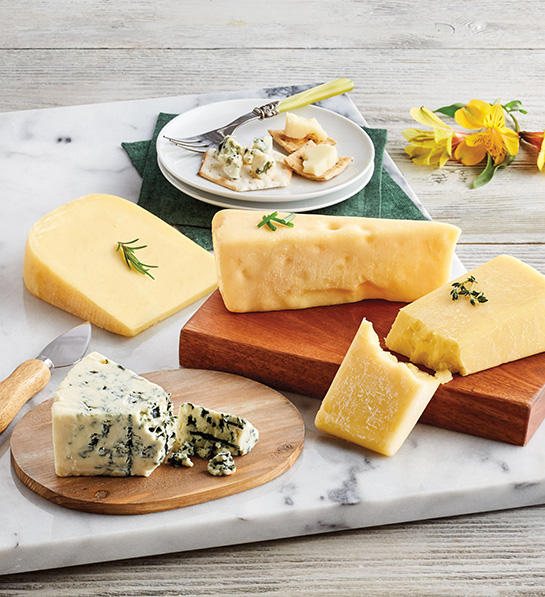 On the ninth day of Christmas…Nine ladies dancing
Give the dancer in your life the perfect gift with this Dance Wish Bracelet. The idea of this bracelet is to make a wish, tie the bracelet around your wrist, and then when it falls off, your wish will come true. They'll surely be dancing all the way through New Year's with this one.
On the tenth day of Christmas…Ten lords a-leaping
The lord of the manor will leap for joy when he unwraps this Neuhaus 10 Flavor Belgian Chocolate Squares Gift. This assortment of delicious bites has something for every chocolate lover, with flavors like orange, caramel, coffee, and raspberry. With 60 individually wrapped squares, there's plenty to go around.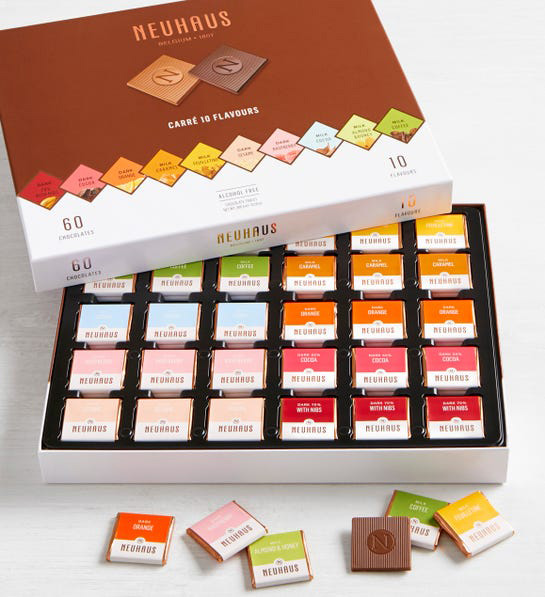 On the eleventh day of Christmas…Eleven pipers piping
Give them something piping hot this season with Chocolate-Covered Jalapeños. These spicy delights bring both the heat and the sweet, as they come covered in white, milk, and dark chocolate. If only you had some hot cocoa to wash it down with.
On the twelfth day of Christmas…Twelve drummers drumming
Add some sweet and savory to their holidays with the Moose Munch Premium Popcorn Holiday Drum. This gift includes flavors like classical caramel and dark chocolate. Once they've picked out the popcorn from their teeth, they can flip the container over and bang in the season with some holiday drumming (sorry, mom).
For more holiday gifting inspiration, check out our other gift guides:
Best New Gifts
Gifts for Her
Gifts for Him
Gifts for Foodies
Gifts Under $30
Gifts Under $50
Best Wine Basket Ideas & Gifts for Any Wine Lover
Stocking Stuffers
Last-Minute Gifts
---