It seems to be the perfect time of year to break out of hibernation and get back into the swing of socializing. Or—dare we even mention it—entertaining. How fitting it is that Easter's right around the corner to help wake up our senses and warm us up to the idea of actually planning and hosting a holiday gathering.
The amount of time it can take to dye eggs, make the house presentable, prepare the holiday meal and fill the Easter baskets can be overwhelming. And who knows how long it'll take to find something pastel and springy for the family to wear. This is where we, the holiday experts at Harry & David, offer a stress intervention and a smile-worthy solution. Let us help with the biggest time-consuming task: the feast.
From a wide selection of delicious Easter brunch ideas, to an easy and gourmet Easter dinner menu, you can entertain with confidence and definitely less sweat equity. We've hunted down the best of the best in everything food. Then we prepare, package and ensure it's delivered to the front door. With a menu of wondrous dishes like precooked honey-glazed ham, roasted vegetable and caramelized onion frittata, scalloped potatoes and a delightful dessert, guests will be fortunate to sit at your table.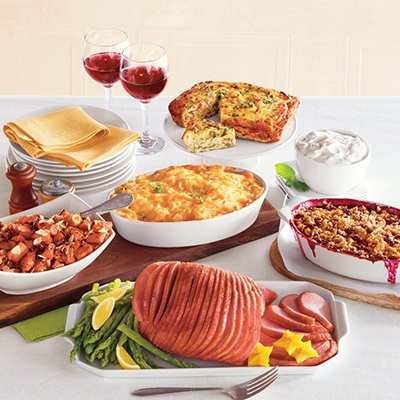 Beyond the Easter eggs and chocolate bunnies, even adults can share in this holiday's glorious festivities. And you can spend less time in the kitchen and get back into the mix of enjoying time spent with the ones you care about. When all the pieces come together, it makes a memorable Easter party…magical.