Nobody wants to be that person driving around town from store to store on Dec. 24 looking for last-minute Christmas gifts. You and I both know you'll wind up at a pharmacy or mini mart buying one of those terra-cotta figurines that has chia growing from it when you water it.
Don't be that person!
Fortunately for you, if you're still looking for a gift this late in the game, we did most of the work for you — all except for you having to pay for the gift. Here are our favorite last-minute gift ideas for Christmas that will make your final week of Christmas shopping easy…as long as you don't wait until the very last minute.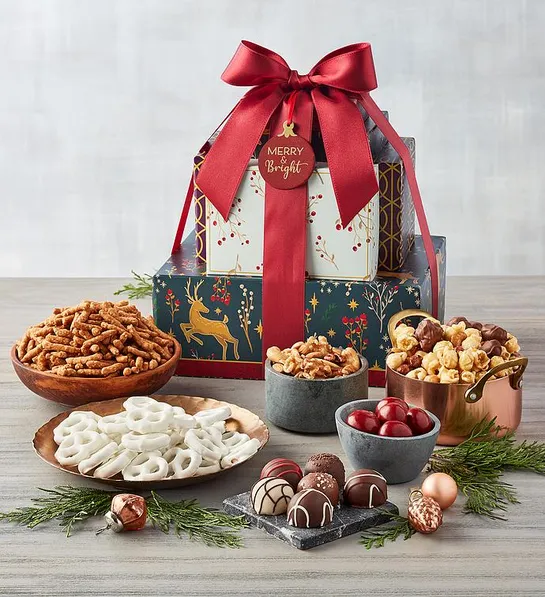 Two is always better than one, and these two towers are filled with premium snacks, including several that are "covered" in goodness: chocolate-covered popcorn and cherries, and yogurt-covered pretzels. And if you like your chocolate all on its own, it also offers six signature truffles.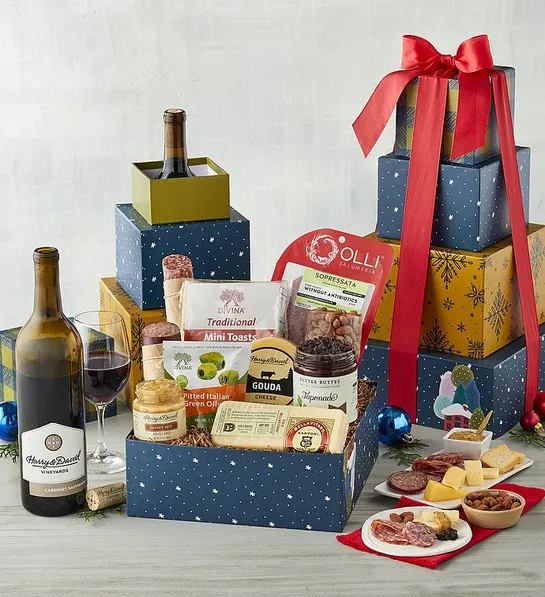 Two may be better than one, but four, well, four is certainly better than two. Not to take anything away from the aforementioned Holiday Signature Snack Tower, but the Deluxe Stacked Tower has four tiers! The top three house a bottle of Harry & David cabernet sauvignon, while the foundation has enough goodies to fill a house, including Busseto Milano Italia dry salami, Olli Salumeria sopressata, Thuringer sausage, Sartori BellaVitano Gold cheese, Italian green olives, and more.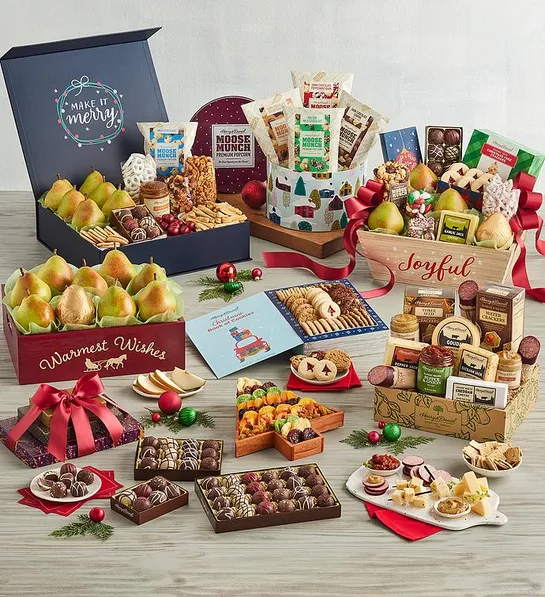 Ain't no party like a Christmas party 'cause a Christmas party don't stop! And when you send a gift that's eight gifts in one, they'll be partying well into the new year. The Classic Christmas Party Gift is also hefty, weighing in at 26 pounds. With it, you get 5 pounds of Royal Riviera Pears, 1 pound of dried fruit in a tree-shaped box, 4 pounds of cheese, 13 pounds of snacks and cookies (Moose Munch, peppermint bark, yogurt-covered pretzels, raspberry galettes, to name a few), and another pound of chocolate truffles. Those two other pounds? They're scrumptious, trust me.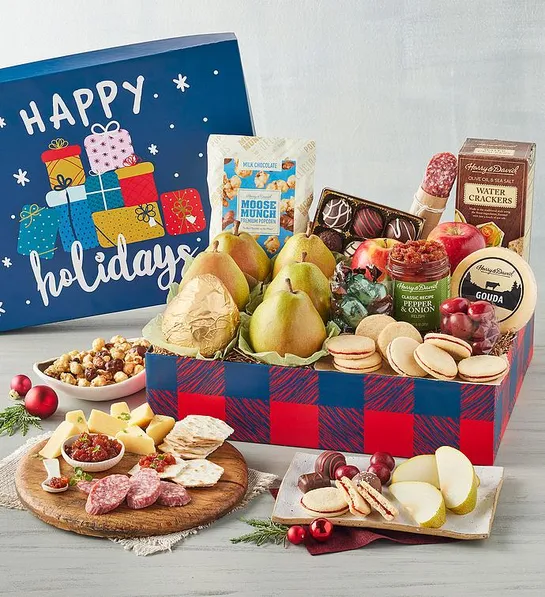 This is like getting the very best of Harry & David all wrapped up in a lovely box. Actually, that's exactly what you're getting: pears, Moose Munch, meat and cheese, pepper and onion relish, chocolate-covered cherries, chocolate truffles, and at least three more items. You can also add wine to this gift. Oh, and that lovely box? It's reusable. So, there's that, too.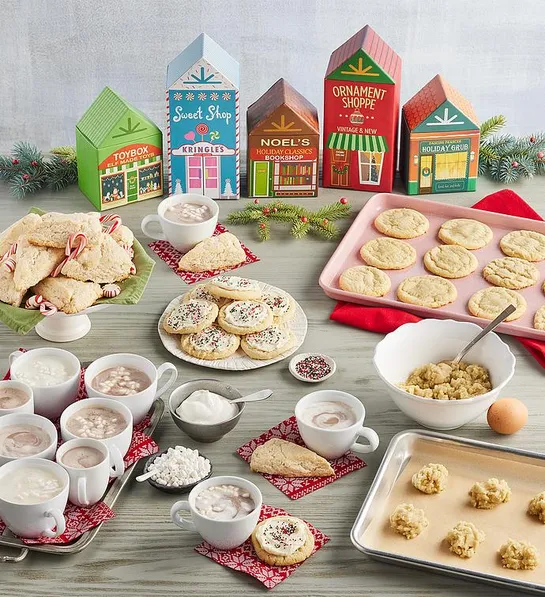 I believe, but don't quote me on this, that baking cookies on Christmas morning became an official holiday law sometime in 1973. Good thing for this last-minute gift idea, huh? The Home for the Holidays Collection comes with two mixes — gingerbread sugar cookies and peppermint scones. And what goes better with cookies and pastries on Christmas morning than hot chocolate? Wash these treats down with your choice of chocolate truffle, Belgian white chocolate, or salted caramel cocoa.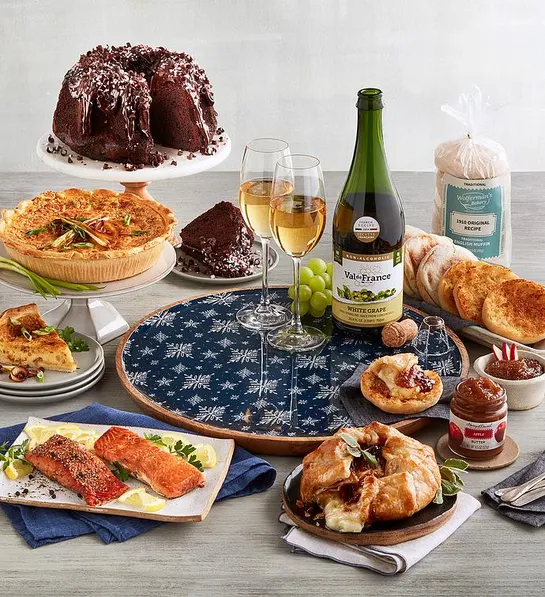 You can't just eat Christmas cookies all day. OK, maybe you can, and kids certainly will if left to their own (just-unwrapped video game) devices. After all the presents are unwrapped — and the youngsters come down from their sugar rush — set out a lovely brunch that suits so many taste buds: triple-cheese and caramelized onion quiche, fig brie en croute, two types of smoked salmon. But wait, there's more! Spread the apple butter on the Wolferman's traditional English muffins and end the meal — or save it for an after-dinner dessert — with a chocolate peppermint Bundt cake.
Whether it's a last-minute Christmas gift or hostess gift (New Year's Eve is just around the corner!), the pairing of wine and chocolate in the form of a full-bodied cabernet sauvignon and dark chocolate truffles is a no-brainer. Enough said.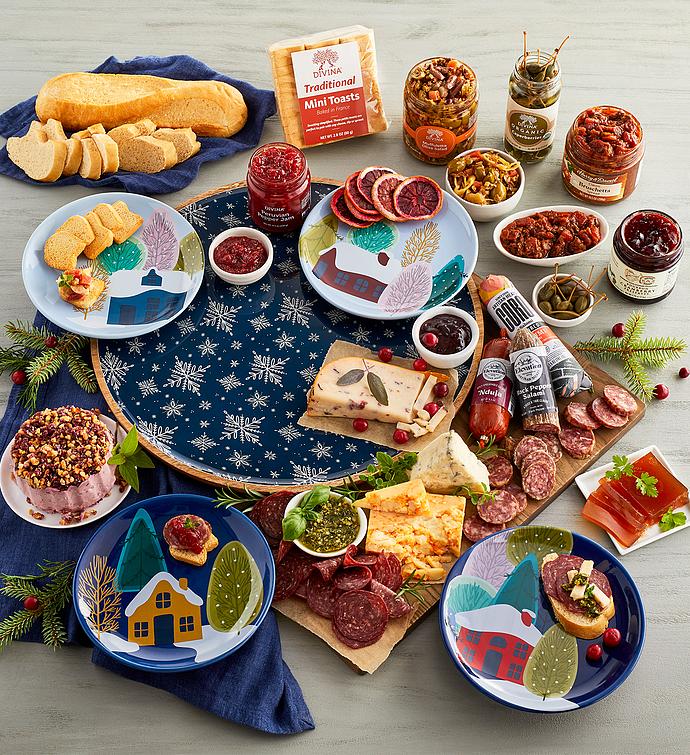 Are there three more symbiotic words this time of year than holiday, epicurean, and entertaining? This all-in-one gift has everything you need for your holiday fete. It does skew toward the charcuterie lover, however, offering the highest-quality salumi from the finest purveyors: Elevation Artisan Meats 'Nduja spreadable salami and black pepper salami, Brooklyn Cured sliced smoked beef salami, and Coro Foods agrumi salami.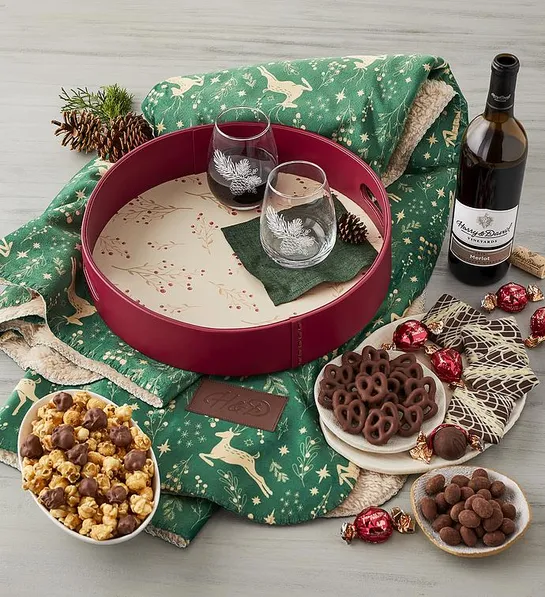 Sure, this comes with dark chocolate popcorn and chocolate-covered grahams (those are my favorite) and chocolate-covered pretzels AND dark chocolate truffles AND cocoa-covered almonds — and those sweets are all well and good (delicious, actually) — along with a bottle of merlot, but the pièce de résistance, for me at least, is the sherpa-lined throw blanket. Anything lined with sherpa equals instant coziness. Even without a fire to snuggle up next to.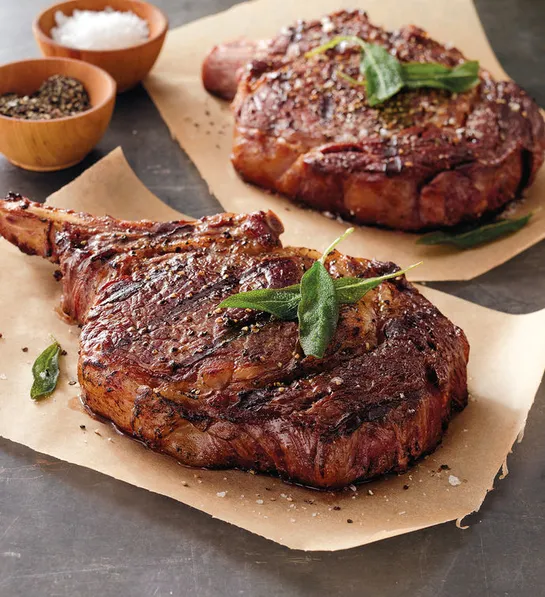 Harry & David's Fruit-of-the-Month Club may be its most notable club in their arsenal, but it has a plethora of continuous gifts that go well beyond just fruit. Imagine your loved one opening their front door every month to find a box of the finest steaks, most decadent chocolates, exceptional desserts, artisan cheeses, gourmet meals, or even award-winning wine. Buy one, buy all! If all, a dinner of lobster pot pie, bone-in ribeye, San Joaquin Gold Cheese, along with a bottle of pinot noir awaits! And for dessert? Chocolate-covered cherries and HoneyBell cheesecake.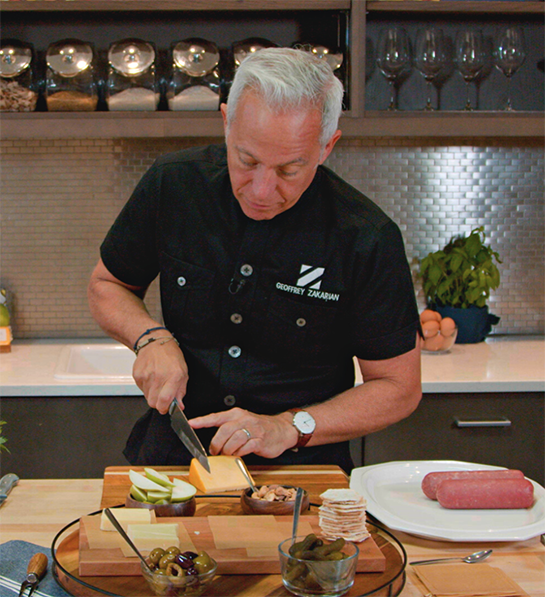 Not all gifts need to come neatly wrapped with a bow on top; some are meant to be experienced. A gift of an Alice's Table workshop is for the person who loves to cook, mix cocktails, or assemble flower arrangements. All the instructors, whether hosting live or on-demand classes, are top shelf, with such luminaries as Harry & David brand ambassador Geoffrey Zakarian (above), acclaimed mixologist Sother Teague, and Alice Lewis, the company's founder.
---
For delivery before Christmas, order by:
Dec. 18 for standard shipping
Dec. 20 for 3-day express shipping
Dec. 21 for 2-day express shipping
Dec. 22 for overnight shipping
---
For more holiday gifting inspiration, check out our other gift guides:
Best New Gifts
Gifts for Her
Gifts for Him
Gifts for Foodies
Gifts Under $30
Gifts Under $50
Best Wine Basket Ideas & Gifts for Any Wine Lover
12 Days of Christmas Gift Guide
Stocking Stuffers
---