Avocado Chicken Tostadas with Texas Style Salsa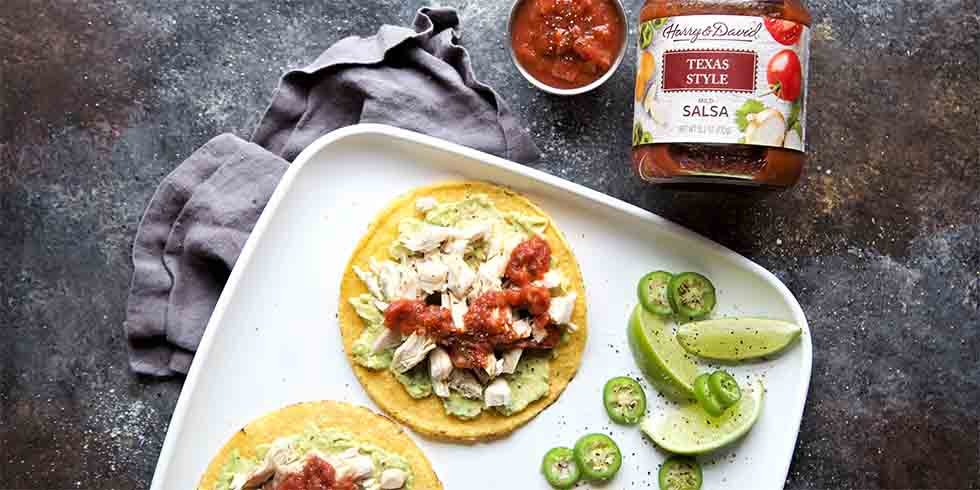 Avocado Chicken Tostadas with Texas Style Salsa
Lauren Grier
| Dinner, Appetizers, Relish |
Mexican
These savory Avocado and Chicken Tostadas with Harry & David Texas Style Salsa are a crowd favorite. Make sure to add the salsa on top for that extra dash of spice!
This delicious recipe is so easy to make and packed with flavor! The combination of avocado, lime juice, and hearty salsa on top of diced chicken will make your guests come back for seconds and thirds. You can even skip the assembly all together to make a fun tostada bar for your guests! Cheese, black beans, olives, and diced onions also make for great additional toppings.
Tip: Can't find a ripe avocado at the grocery store? Trying using refried beans instead to hold everything together!
Avocado Chicken Tostadas with Texas Style Salsa
Prep Time: 10 minutes |
Cook Time: 5 minutes |
Total Time: 15 minutes
Ingredients
3 to 4 medium avocados, pits removed
1 1/2 tbsp fresh lime juice
1 1/2 cups chopped store-bought rotisserie chicken, divided
6 crispy store-bought corn tostadas
6 tbsp Harry & David Texas Style Salsa, divided
Fresh chopped cilantro, for garnish
Instructions
Take the avocados and mash them in a bowl using a fork.
Add the lime juice, pinch of salt and pepper, and stir to combine.
Next, take a crispy tostada and spread some of the avocado onto the tostada in a thin layer leaving a small border.
Top the avocado with 1/4 cup of chicken.
Then, top the chicken with 1 tbsp Harry & David Texas Style Salsa followed by fresh chopped cilantro.
Repeat process until all tostadas have been made.
Eat and enjoy!
Makes: 6 tostadas
Serves: 6 servings