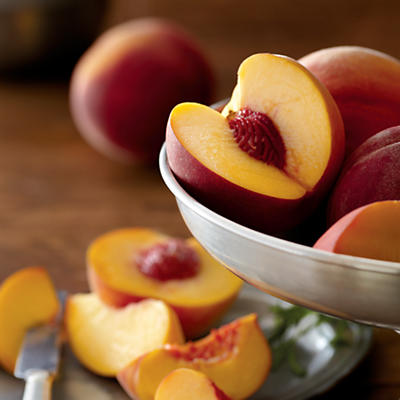 FRESH OFF THE BRANCH AND JUICY SWEET
Our peach season is underway nearly a week earlier than last year, and we have a great deal to be excited about. A warm spring and plenty of sunshine infused our peaches with lots of color and character. Unlike pears, peaches ripen top to bottom and from the outside in, which can make timing the harvest a bit tricky. Good thing we have such an experienced harvest team. They know exactly when the peaches should come off the branch, so we can harvest the peaches and get them ready to ship in just a few hours. That means you're getting our peaches at their peak. When ripe, peaches have a distinct fragrance. If your peach doesn't smell peachy, you'll want to wait a little longer before eating it.
Harvest Information
APPLES
We are currently packing our gifts with Empires apples from New York and Jazz apples from WA.
PEARS
Royal Verano Pears are shipping on time.
PEACHES
Oregold® Peaches are now shipping.
NECTARINES Nectarines require cold nights in order to mature properly and to develop excellent flavors and sugars. Due to warm weather and drought conditions in California, the nectarines that we were planning on sending will not meet our gift grade standards.
Since we take great pride in delivering quality fruit, we have located another unique delicacy that we feel confident will be received with delight. Grown in Reedley, California, Black Kat® pluots are known for their deep purple skin, yellow flesh, and exceptionally high sugar content.
We will begin harvesting and packing Black Kat® pluots the last week of August and they should arrive the first or second week of September.