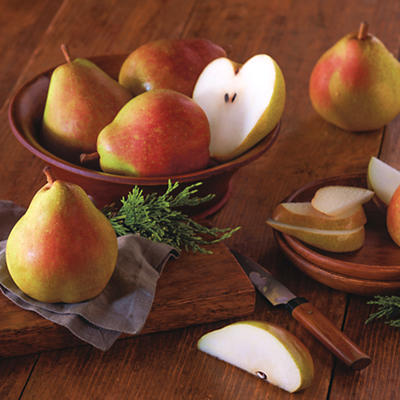 ROYAL RIVIERA® PEARS ARE HERE
The fall Royal Riviera® Pear harvest is the highlight of each year here at Harry & David, and our pear trees bloomed about nine weeks early this spring. We also had the warmest June on record and a warmer-than-normal July, contributing to a large, early crop of exceptional pears. After being handpicked in our Southern Oregon orchards, Royal Riviera® Pears are handled with great care every step along the way, ensuring that they arrive at the peak of ripeness and flavor. Our incredible pears are the culmination of all of our efforts, and we're thrilled to announce that Royal Riviera® Pears are now shipping.
Harvest Information
PEARS
Royal Riviera® Pears are now shipping.
PERSIMMONS
Fuyu Persimmons will continue to ship through mid-December.
APPLES
Braeburn and Pacific Rose varieties are currently being shipped from Washington. Empire apples are now being shipped from New York.
NAVEL ORANGES
Florida and California oranges are ready to ship.
RED GRAPEFRUIT
Grapefruit are currently shipping from Florida and Texas.
HONEYBELLS
The Arizona HoneyBells are having an early harvest, and will begin shipping in time or Christmas. Florida HoneyBells are expected to begin shipping during the first week of January.
PEACHES
Peaches will begin shipping from Chile in time for Christmas.