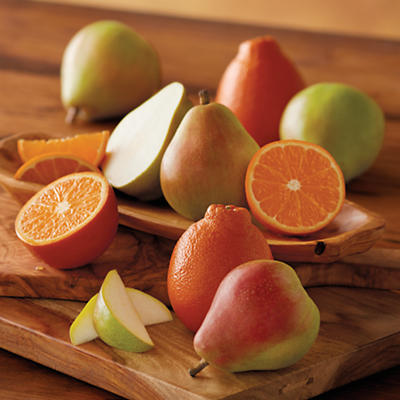 FOR THE NEW YEAR: ROYAL RIVIERA® PEARS AND CUSHMAN'S® HONEYBELLS
This past year proved to be a boon year for Royal Riviera® Pears, which produced a large and exceptionally flavorful crop. The new year brings with it our Florida and California Cushman's® HoneyBells, on schedule and shipping at the peak of ripeness and sweetness. After being handpicked in the orchards, our pome and citrus are handled with great care every step along the way, ensuring they arrive in picturesque condition bursting with flavor. These incredible fruit are the culmination of all of our efforts, and we're thrilled to announce these succulent beauties are now shipping.
Harvest Information
PEARS
Royal Riviera® Pears are now shipping.
HONEYBELLS
HoneyBells from Florida and California's Imperial Valley are now shipping.
APPLES
Braeburn and Pacific Rose apples from Washington and Empire apples from New York are currently shipping.
NAVEL ORANGES
Florida and California navel oranges are now shipping.
RED GRAPEFRUIT
Rio Star Red Grapefruit grown in Texas and Indian River Red Grapefruit grown in Florida are currently being shipped.