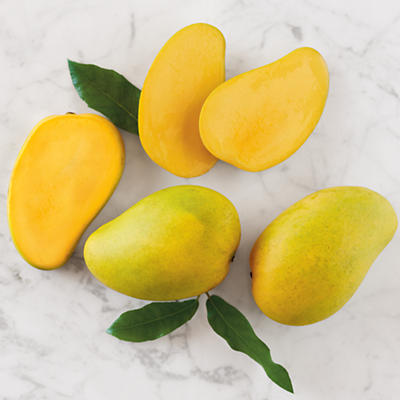 HONEY MANGOES ARRIVE IN JUNE
Discovered less than a century ago in southern Mexico, honey (or Altaufo) mangoes are smaller than the mangoes typically found in the supermarket. Sweet, delicious, and fragrant, they have a richer, spicier flavor than conventional mangoes, in addition to a much smaller pit. The flesh is also less stringy and fibrous. Vibrant yellow and oblong-shaped, honey mangoes begin to mature for harvest around late February, and are only available from late May to the end of June.
Ripening Instructions:
Mangoes generally take three to eight days to ripen at room temperature, though they will ripen faster if placed in an enclosed bowl or paper bag. The stem end should be slightly soft when pressed, similar to a peach or pear. Mangoes can be chilled before serving, but shouldn't be stored in the refrigerator for more than a few days.
Harvest Information
APPLES
We are currently packing our gifts with Empires apples from New York and Jazz apples from WA.
PEARS
Royal Verano Pears are shipping on time.
STRAWBERRIES
All May-dated strawberry shipments have gone out and will arrive before the end of the month.
PAPAYAS AND MANGOES
Papayas and honey mangoes for June shipments are expected to begin shipping in late May.
CHERRIES
Father's Day Pears and Cherries Fruit Gift will be arriving in time for Father's Day. Our Cherry-Oh!® Cherries are expected to begin shipping in early July.
PEACHES
Our Oregold® Peaches are ripening now. We expect to begin harvesting in mid-to-late July and will ship through mid-September.