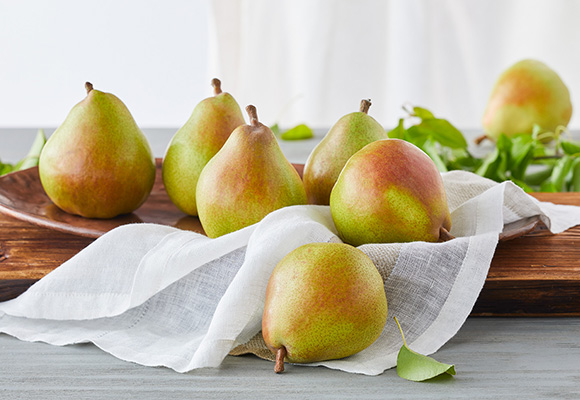 Royal Riviera® Pears
We love this time of the year—Royal Riviera® Pears are here! An extraordinary amount of care and dedication goes into growing our premium pears, from tending the orchards year-round to pruning the trees at just the right time to picking and packing each precious pear by hand. All the hard work is worth it though, because we believe they're simply the best pears around, and once you take that first sweet, juicy bite, we think you will, too.
NOW HAPPENING IN THE ORCHARDS
Our pear and peach trees have now gone into dormancy until spring. With 700,000 pear trees across our 19 orchards, it will be all hands on deck for our pruning crews. They will be working nonstop from now until the buds appear in spring.
HARVEST INFORMATION
Pears
We are now shipping Royal Riviera® Pears from our orchards in Southern Oregon's Rogue River Valley. In addition, we will ship Bosc pears from our orchards and red and green d'Anjou pears from Oregon and Washington.
Apples
We are shipping Smitten, Cosmic Crisp, and Envy apples grown in Washington and Smitten apples grown in Michigan.
Citrus
The citrus harvest is just beginning. In November, we will be shipping navel oranges and red grapefruit from Florida's Indian River region.
Specialty Vegetables
Our featured vegetable for November is Brussels sprouts on the stalk grown by The Chef's Garden. We are proud to partner with The Chef's Garden and offer a selection of sustainably grown, restaurant-quality gourmet vegetables, including petite greens with edible flowers and boxes of restaurant-quality mixed vegetables. We will also ship white asparagus grown in Peru, avocados grown in Mexico, and shiitake mushrooms grown in California.