Honeybell Orange Margarita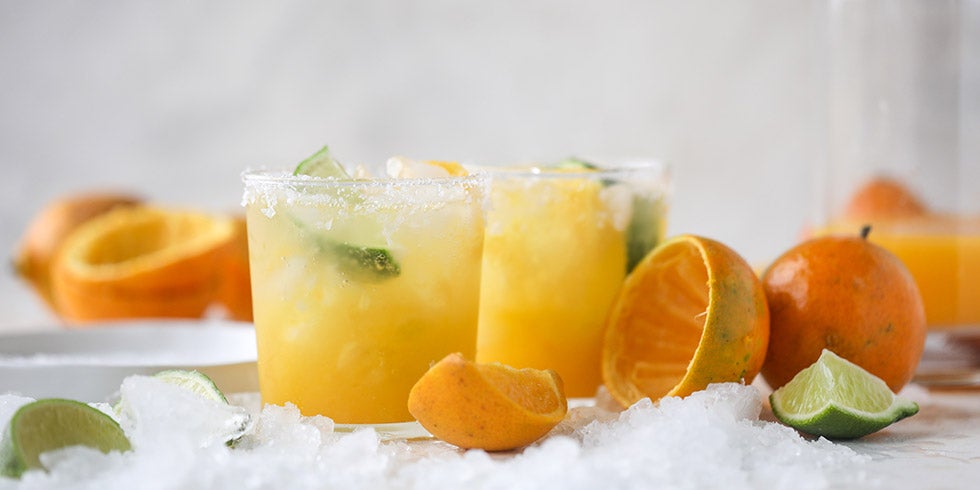 Honeybell Orange Margarita
Jessica Merchant
| Drinks, Citrus |
Mexican
It's time for margaritas! This Orange Margarita recipe is made with Harry & David HoneyBells, which are sweet tangelos, and has a delicious citrus flavor. It's like drinking sunshine in a glass!
Harry & David HoneyBells could not be more perfect for a margarita. The fresh juice is the best complement to tequila and lime, making these margaritas bright and fresh. This recipe is exactly what the winter blues call for! While HoneyBells are great in this cocktail, since they're only around for a short time each year, you may substitute them with Cara Caras or Navel Oranges as alternatives.
We also like to add a touch of orange liqueur and simple syrup to make this drink irresistible. Add a salted rim around the glass to create a palate contrast that is delightful! This Orange Margarita only makes one drink, but can be easily multiplied for a crowd. You could also add it to a blender with a bit of ice for a frosty margarita slush. And while you have the blender out, try making HoneyBell Smoothies for the kiddos!
Honeybell Orange Margarita
Prep Time: 12 minutes |
Cook Time: 0 minutes |
Total Time: 12 minutes
Vegetarian
Ingredients
2 ounces freshly squeezed HoneyBell orange juice
1 1/2 ounces silver tequila
1 ounce orange liqueur
1 ounce freshly squeezed lime juice
1 1/2 ounces simple syrup
Orange and lime slices, for garnish
Coarse salt for the rim
Instructions
Rim the ridge of your glass with a lime wedge and dip in coarse salt. Fill the glass with ice.
In a cocktail shaker, combine orange juice, tequila, orange liqueur, lime and simple syrup with ice, and shake for about 30 seconds.
Pour over ice and squeeze in lime and add HoneyBell slices.
For the Simple Syrup
Combine equal parts sugar and water, bring to a boil and let sugar dissolve, then turn off heat and let cool completely.
Makes: 1 margarita
Serves: 1 serving