Enjoying decorated Christmas trees, with their twinkling lights and evergreen fragrance, is one the best parts of the holiday season. That's why we offer a variety of decorated mini Christmas trees and wreaths. Our mini Christmas trees will brighten any entryway, fit into smaller spaces or liven up a room.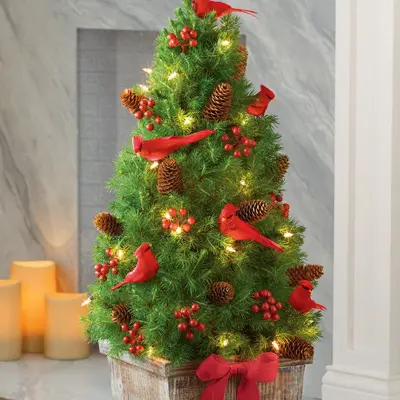 You can also send a mini Christmas tree gift as a way of sharing the season with loved ones who don't live nearby. Plus, these mini Christmas trees are living spruces that can be planted in the yard to grow for years to come. Planting a tree is a Christmas gift that everyone can appreciate.
Wreaths with festive ribbons can do more than decorate the front door. Consider placing one as a Christmas centerpiece for your holiday dinner table.
It's easy to send a wreath or mini Christmas tree. Delivery only takes a few days, and setup is super easy. Just open the box and plug in the lights. Give decorated wreaths and mini Christmas trees this season, or buy them for yourself so you can really deck the halls with Christmas treasure.