Harry & David History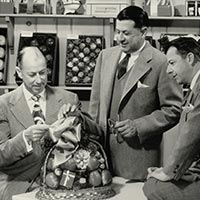 Harry & David
Samuel Rosenberg, Harry & David's father, was a successful hotel owner in Seattle, Washington, but agriculture had always been his true love. In 1910 he traded his luxurious hotel for 240 prime acres of pear orchards in Southern Oregon's Rogue River Valley and named his orchard after Bear Creek, which flowed through the fertile valley. In 1914, after also graduating from Cornell with agricultural degrees, Harry & David inherited the orchards and established the company we know today.
The brothers chose to specialize in Comice pears, the intensely sweet and juicy pears originally from the south of France and highly coveted in upscale European markets. Though they required very specific growing conditions and were hard to produce in abundance, the Rogue Valley proved ideal, and the special variety that the brothers cultivated was even more delicious, and hardier, than its French counterpart. To set their remarkable pears apart from all others, Harry & David branded their luxurious pears "Royal Riviera."
By 1934, with Royal Rivera® Pears gaining worldwide popularity, Harry & David began creating gourmet gifts featuring their pears. Building on their initial success, they came up with gift baskets, Fruit-of-the-Month Club® Collections, and enticing gift towers, including the Signature Holiday Tower of Treatssup® Gift, still our most popular gift. The brothers paid scrupulous attention to every detail, and quality was their number one goal.
To this day, we still hand pick all of our fruit at peak ripeness, craft our own baked goods and confections, pack our gifts by hand, and ship everything to arrive in perfect condition, ready to share and enjoy.
Wolferman's Bakery and Stock Yards
Two other venerable brands complete the Harry & David portfolio. Wolferman's Bakery has been synonymous with fine baking since 1888, and is most known for their incredible English muffins. We've expanded their offerings to include breads, pastries, cakes, and other delicious treats along with breakfast and brunch items, pantry essentials, and even complete meals. Stock Yards has delivered "the World's Finest Steaks and Chops" to restaurants for more than 120 years, and it is our pleasure to offer them directly to customers throughout the country. With Prime and Choice selections, our Stock Yards® steaks and chops are hand-carved and expertly aged for the best possible flavor and tenderness.
1-800-FLOWERS.COM, Inc. Family of Brands
In 2014, Harry & David became part of the 1-800-FLOWERS.COM, Inc. Family of Brands. With over forty years of innovation and excellence, family-run 1-800-Flowers.com has grown to include some of the best-known gifting and gourmet food brands in the business while maintaining its original mission and founding principle: to make people smile.