Harry & David Headquarters & Locations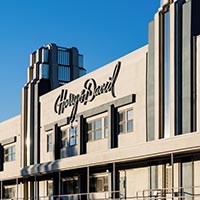 Harry & David Headquarters, Medford, Oregon
With its landmark 1937 art-deco towers, the Harry & David headquarters sits on the site of the original orchards. The sprawling campus consists of administrative offices, an information technology building, packing houses, storage facilities, a candy kitchen and bakery complex, an employment and education center, customer service call center, marketing offices, an in-house design agency and much more. Harry & David maintains 2,700 acres of orchards throughout the Rogue Valley. Between the packing facilities, the orchards, and the on-site call center, the normal workforce of 1,700 swells to over 6,700 at the peak of the holiday season, with as many as 100,000 calls received in a single day.
Life in the greater Medford area
The area surrounding Medford, Ashland, Jacksonville, and Grants Pass, known as the Rogue Valley, includes many notable attractions, magnificent diverse landscapes, world-class waterways, downhill and cross-country ski parks, and easy access to wilderness areas and vast trail systems, including the Pacific Crest Trail. Known agriculturally for its pears and, more recently, its vineyards, the Rogue Valley is home to five wine regions and more than 150 wineries. As the wine market has taken off, so has the culinary scene, and established restaurants are being joined by new eateries and a host of gourmet and ethnic food trucks. Farmers markets dot the towns, serving up local and organic produce, baked goods, specialty foods, grass-fed beef, seafood, and more.
List of Attractions
Oregon Shakespeare Festival of Ashland
Britt Gardens Amphitheater and performing arts festival
Craterian Ginger Rogers Theater
Bear Creek Greenway walking and bike trail
Wild and Scenic Rogue River
Siskiyou National Forest
Pacific Crest Trail
Mt. Ashland Ski Area
Historic Jacksonville
Crater Lake National Park
Mt. Shasta
Hebron, Ohio
The 52-acre Hopewell facility, located in Hebron, Ohio, provides a 450-seat customer contact center, as well as a 275,000-square-foot distribution center for directing marketing orders and product for Harry & David retail stores, and a gift assembly area. The Hopewell campus also includes an employment center that supports seasonal, temporary, and regularly scheduled hiring. During the holiday season, the employee roster expands to over 2,000. The Ohio facility is designed to meet production demand and improve service to customers in the eastern United States during the holiday season.
Life in Hebron
The village of Hebron is located in central Ohio's Licking County, 30 miles from Columbus. Home to eleven parks, reserves, and preserves, the region caters to those who love the outdoors. Rolling hills developed from ancient glaciers surround meadows and forests just waiting to be explored.
Hebron itself is home to 17 public schools, 4 private schools, 3 universities, and 2 technical schools. The community is experiencing a farm-to-table renaissance with local farmers markets catering to the trend.
List of Attractions
Black Hand Gorge
Flint Ridge State memorial
Dawes Arboretum
The Lazy River at Granville