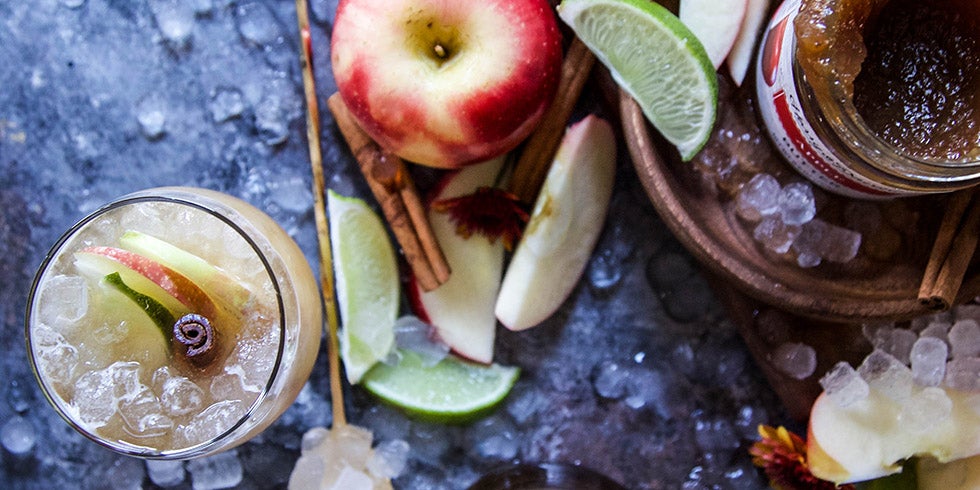 Apple Butter Cocktail
Lauren Grier
| Drinks, Apples, Relish |
American
Get into the spirit of the season with this spiced seasonal drink! Mix delicious, sweet apples with dark bourbon to create a perfectly-balanced apple butter cocktail.
In this Apple Butter Bourbon Mule you'll find apple cider, bourbon, lime juice, apple butter, and ginger beer. Apple butter may sound like an odd addition to a cocktail, but it is a game changer! With a mixture of brown sugar and pumpkin spices, it's the perfect alternative to using simple syrups.
The taste is similar to a traditional Moscow Mule, but with a spicier and sweeter blend due to the addition of the apple butter. Sip your way into autumn bliss!
Apple Butter Cocktail
Prep Time: 10 minutes |
Cook Time: 0 minutes |
Total Time: 10 minutes
Vegetarian,
Ingredients
1/3 cup apple cider
2 tbsp apple butter
4 ounces bourbon
1 tbsp lime juice
12 ounces ginger beer
Cinnamon sticks, for garnish
Lime wedges, for garnish
Apple slices, for garnish
Instructions
In a large cocktail shaker add the apple cider, apple butter, bourbon, and lime juice.
Shake until everything is well combined.
Fill two glasses with ice. Divide the apple butter mixture between two glasses filling halfway.
Next, pour the ginger beer in each glass to the rim. Garnish with cinnamon sticks, lime wedges, and apple slices.
Enjoy!
Makes: 2 cocktails
Serves: 2 servings