It's one of our favorite decadent offerings to create and is also one of our most popular. Crafted in our onsite candy kitchen, Moose Munch® Gourmet Popcorn is made exclusively with a unique varietal of corn kernel that, when popped, has the right size and shape to hold the ideal amount of caramel or chocolate. The popcorn is mixed directly into sweet, buttery caramel, along with whole roasted nuts, until each piece is richly coated.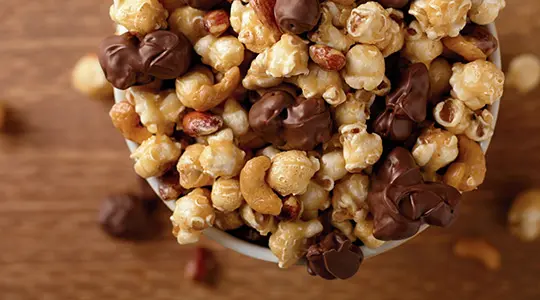 It took us more than 160 attempts to refine the recipe because we wanted it to be just right. And in 1997, when we finally perfected it, we knew that nothing would ever be the same.
Nearly 20 years later, our chocolate-covered popcorn has more than earned its famous reputation for being addictively sweet and salty. The rich intermingling of caramel, nuts, chocolate, and popcorn is the sort of premium gourmet treat that we pride ourselves on making.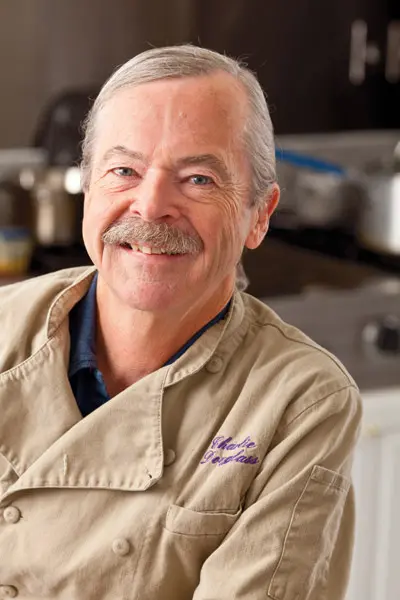 Moose Munch® Gourmet Popcorn is made under the watchful eyes of Charlie Douglass, our head chocolatier, who apprenticed with a Swiss candy-maker at age nine and attended a French pastry school.
When we want to create popcorn gifts that are even more decadent, we selectively cloak the popcorn with a rich layer of the same chocolate that we use to create our signature chocolate truffles. We offer more than 20 varieties of our iconic caramel corn, including limited edition holiday flavors and favorites like butter pecan, white chocolate cranberry, and s'mores. We offer this delicious treat in popcorn tins and convenient full- and bite-size candy bars.
We're constantly innovating and trying new flavors, so be sure to visit our website to see what new deliciousness is popping up. Rest assured, though, that our Moose Munch® Gourmet Popcorn will remain sweet, salty, smooth, and crunchy for a long while yet.
---
We'd Love to Hear from You!
What's your favorite flavor of Moose Munch?