Magnetic Acacia Knife Block
Magnetic Acacia Knife Block
We are sorry, the product you have selected is not available. Below is selection of top trending products that customers like you have chosen to help connect, express and celebrate.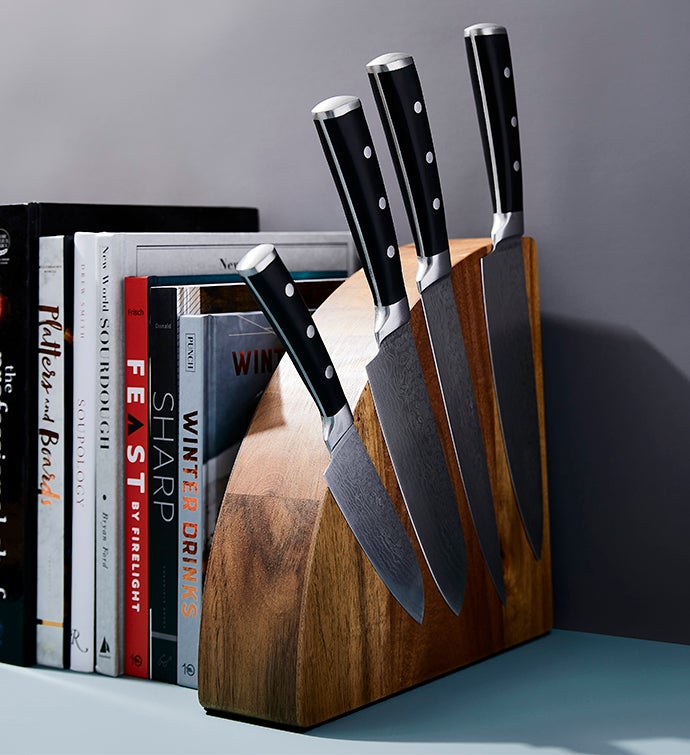 Product Details
:
1027-P-MK009245
Gorgeous, matte acacia wood. Industrial-strength neodymium magnets. A hefty weight and size that won't slide around your counter or tumble over. All reasons we love this clever knife block from Marcellin. Its arc-shaped design allows you to fan your blade handles out, maximizing space and safety while displaying your prized steel in a way that actually looks nice. Because of its sturdiness, this thing makes an exceptional bookend for mashing your cookbooks into the corner of your counter to make things even more convenient. All together, it's a one-two punch that instantly boosts your kitchen organization and keeps your blades (and your hands) as safe as possible.

- (H)9.75" x (W)9.75" x (D)2.75"
- Matte-stain acacia wood
- Industrial-strength neodymium magnets
- Holds up to 7 knives on each side
- Doubles as a bookend
- Care: To clean, hand-wash with warm water and a mild detergent, rinse, and dry immediately.