Gourmet Smoothies Recipes | Harry & David
Smoothies Recipes
Create an exceptional gourmet meal with these mouthwatering recipes.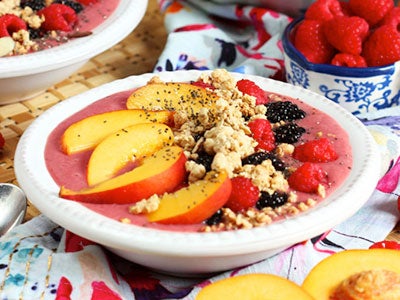 Berry Peach Smoothie Bowl
Refreshing and simple, this Berry Peach Smoothie Bowl is like a big bowl of summer sunshine! With fresh Oregold Peaches and berries to top it off, it doesn't get any easier or tastier than this.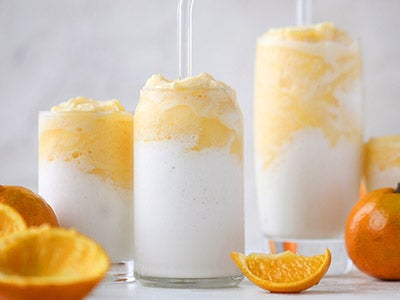 Orange Coconut Smoothie
The only thing better than a flavorful, spring smoothie is TWO flavors in one! Not only is this layered Orange Coconut Smoothie delicious, it's also so pretty, and that makes drinking a smoothie so much more fun. Whether it's for breakfast or a snack, this smoothie will brighten up any day.
Peach Green Smoothie
This Peach Green Smoothie recipe comes together effortlessly to create a delicious breakfast or on-the-go snack. It's also a refreshing way to use all those perfectly-ripe Oregold Peaches!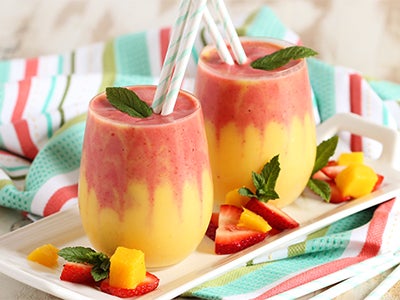 Mango Strawberry Smoothie with Fresh Ginger
This Mango Strawberry Smoothie with Fresh Ginger recipe made with Harry & David mango is perfect for those summer mornings, and a great way to start off your day. It's two easy smoothies layered together to create the most beautiful concoction ever.
Pear Ginger Green Smoothie
There's nothing better than starting the day feeling fueled up and energized! This Pear Ginger Green Smoothie is full of nutrients and delicious flavors, like our Royal Riviera Pears.